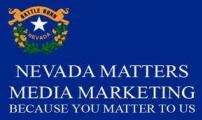 Thanks for checking us out.
We're excited to share with you how America Matters Media is reinventing community radio in Northern Nevada and creating a model for our country. We're Northern Nevada's leader in community radio, the integration of radio with social media and providing a forum for political discussion from all points of view. Consider this your gold-engraved invitation to join us as a talk show host, advertiser/sponsor or participating community member!
Come by our Reno Town Mall studio and get on the mic with us, call in to our shows or share your comments and questions on Facebook. You're invited!
Raise Your Voice!
Our hosts encourage listeners to call in to ask questions or share their thoughts. Nevadans can call 775.827.8900 and there's a toll free number for national listeners too – 855.790.TALK.
Questions and comments are also taken from the America Matters Facebook page and email and read on air; and now you can even text your questions in to 775.384.4444.
You can listen online to KRNG at renegaderadio.org and KKFT at 991fmtalk.com. You can also listen via your Smartphone using the free Tune In Radio app. The America Matters studio, located in the Reno Town Mall across from the Atlantis Casino Resort, is open for live audiences, so you are always invited to come on down and help to revive community radio in Reno! Also consider whether you'd like your own show or to be a guest or advertiser on one of our shows. Call us!